FROM ROBOTS TO FOUNDATIONS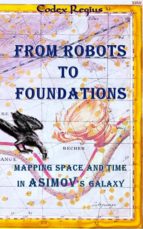 Ficha técnica

Editorial:

ISBN:

cdlxi00352797

Idioma:

ALEMAN

Formato:

EPUB

DRM:

Si
Comprar
"From Robots to Foundations" gives the most detailed timeline possible from the beginning of spaceflight to the era of the two Foundations that can be compiled from the novels and stories by Isaac Asimov that are set in the Trantor Universe: the Robot Series, the Empire Series and the Foundation Series, as well as "Nemesis" and a couple of short stories. Entries are generally documented and referenced by the relevant book and chapter.

With an illustrated encyclopedia of all the stars and worlds in Asimov's Galaxy.

By the authors of the award-winning novel "Horsemen of Mars"!