GRANDINO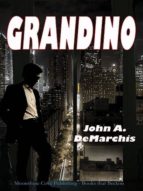 Ficha técnica

Editorial:

ISBN:

9781937327392

Idioma:

INGLÉS

Formato:

EPUB

DRM:

Si
Comprar
He Never Wanted The Name. He Never Wanted The Life. But Now, The Only Way For Sal Grandino To Break The Mafia'S Grip...Is To Join Them.

"DeMarchis' novel captures the struggle of a man immersed in the mafia's kingdom-a man desperately trying to escape from that world...Full of romance, daring, and intrigue, this story will keep you guessing until the very end."-Andrew Joseph, author of Huntress.

Up-and-coming New York City investor Salvadore Grandino always wanted to make a name for himself, but as the heir to a powerful mafia family - and its dirtiest secret - creating a new identity is more than a metaphor. With enemies closing in from all sides, he must fight for his own freedom, and for the chance to spend his life with the woman he loves. And it's a fight to the death.

"Part runaway, part vigilante, part hopeless romantic-it's hard to put your finger on Sal Grandino. And with a story on par with Patterson and Sandford, DeMarchis will keep you tearing through the pages to the very end."-Sam Roy, author of A Darkened Glory and co-author of The Essential Elvis.

"...In his debut novel, author John DeMarchis crafts a riveting story coursing with deceit, wit, and passion... "-Jamie Novak, Founder of Winking Owl Writing"