GUARANTEED JUSTICE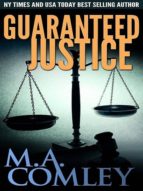 Ficha técnica

Editorial:

ISBN:

9783959261470

Idioma:

INGLÉS

Formato:

EPUB

DRM:

Si
Comprar
Linda Carter is brutally raped and left for dead in an alley by wealthy playboy, Graham Gibson. During the ordeal Gibson threatens that Linda?s sister Fiona will be his next victim.
Retired DCI Lorne Simpkins and her husband, Tony thought they knew what they wanted when they started up an animal rescue centre. Despite her new role being a fulfilling one, Lorne feels something is missing from her life and decides to become a Private Investigator.
Feeling vulnerable Fiona searches the paper and an advert catches her eye which leads her to Lorne?s rescue centre. During a home check to see if the girls? flat and a dog are suited, Lorne witnesses Linda?s horrendous injuries. She urges the girls to let her take up their case. Little does she know that more victims will come forward to accuse Gibson of being a multiple rapist.
Lorne is determined that Gibson will get his day in court, but will the girls be guaranteed justice?