HASSAN AND LULU: BOOK 2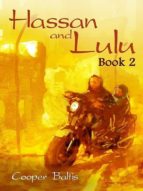 Ficha técnica

Editorial:

ISBN:

9783960280217

Idioma:

INGLÉS

Formato:

EPUB

DRM:

Si
Comprar
Hassan has no choice. His heart is leading him on a mission through the ruins and chaos of Baghdad after the American invasion. He knows that he must find his missing father and save his young sister, Lulu, from the horror of growing up without her parents in a city ravaged by violence and terror.

In the second part of the Hassan Lulu trilogy, we continue the heartbreaking but inspirational journey through Baghdad and the human soul that two young people are forced to make to save their father... and perhaps themselves.

Hassan and Lulu Book Two is published by Hippo Books, a publisher dedicated to producing interesting, readable and fun books. This book is suitable for English students with upper-intermediate English or higher. Be sure to check out our other Hippo Graded Readers.

About the Author:

Cooper Baltis is one of the writers and founders of Hippo Books. He is a former Fulbright English Teaching Assistant at the National University of Mongolia and is TESOL certified. He has taught English in Asia for five years and has published stories in several literary magazines in America. His Hippo books include Hassan and Lulu and My Brother the Giant, as well as many short story collections.