HEROINES: STORIES OF GREAT WOMEN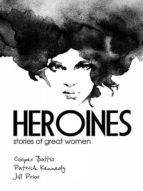 Ficha técnica

Editorial:

ISBN:

9783959263986

Idioma:

INGLÉS

Formato:

EPUB

DRM:

Si
Comprar
Heroines is a collection of short stories about six great women who have all changed the world through their courage, passion and intelligence.

Valentina Tereshkova was the first woman in space.

Joan of Arc was a sixteen year old farm girl who led France to victory over the English.

Aung San Suu Kyi is one of the most respected and fearless political leaders in the world.

Rosa Parks is an iconic figure in the Civil Rights Movement in America.

Florence Nightingale is considered to be the founder of modern nursing.

Chen Shu-chu has spent her life helping the poor and sick of Taiwan.

Heroines is published by Hippo Books, a publisher dedicated to producing interesting, readable and fun books. This book is suitable for English students with intermediate English or higher. Be sure to check out our other Hippo Graded Readers.