HOMOSEXUALITY AND FOLLOWING JESUS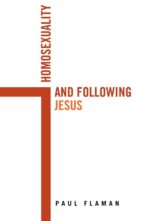 Ficha técnica

Editorial:

ISBN:

9781926645919

Idioma:

INGLÉS

Formato:

EPUB

DRM:

No
Comprar
Jesus' prayer was "that all may be one."

In this clear, concise, and compelling book, Paul Flaman addresses ways in which we can contribute to fulfilling this foundational prayer of the Christian life when it comes to the issue of homosexuality -- an issue that has caused much division in countries, churches, and families around the world.

Flaman argues that Jesus' example and teaching help us focus on what is most important, including his call for us to:
Treat others the way we would like to be treated
Respond to the real needs of others in loving others as he loves us
Live according to the truth
Take up our cross to find fullness of life
Avoid sexual immorality
Forgive and be reconciled and healed
PAUL FLAMAN
Paul Flaman is an associate professor of Christian theology, St. Joseph's College, University of Alberta. He is also the author of Genetic Engineering: Christian Values and Catholic Teaching (Paulist Press).