HOPE I DON?T DIE BEFORE I GET OLD
MARY BOONE WELLINGTON / MS TRACEY BOWMAN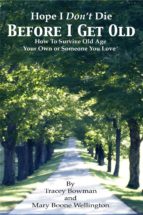 Ficha técnica

Editorial:

ISBN:

9780983878728

Idioma:

INGLÉS

Formato:

EPUB

DRM:

Si
Comprar
Hope I Don?t Die Before I Get Old is a new look at an old problem, bringing insight, humor and a few key facts about successful aging to everyone who wakes up one day to find their aging parents, or themselves, in need of some assistance and a bit of sage advice for the journey. 
MS TRACEY BOWMAN
After thirty years as a midwife doing home and hospital births, Tracey left her practice to teach at  Yale.  "I started my dream of being a midwife after having my first child at age 20 and have been privileged to witness the strength and power of women as they achieve their goal of a natural childbirth.? Tracey brings insight and humor to an exploration of strength and dignity at lifes? other end.
MARY BOONE WELLINGTON
Artist and inventor, has now branched out into the written word as a medium.  She and co-author Tracey Bowman shared their stories and support with each other as they cared for their aging parents, forging a conviction that everyone needs a plan for their old age. Wellington brings her organizational and creative talents to the issues facing us all as we, and our loved ones, grow old.  ?Have a plan?, she says, ?and BTW-denial is not a plan.?