I HATE HOCKEY
FRANçOIS BARCELO / PETER MCCAMBRIDGE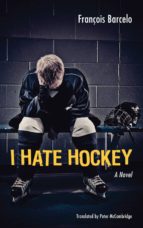 Ficha técnica

Editorial:

ISBN:

9781926824307

Idioma:

INGLÉS

Formato:

EPUB

DRM:

Si
Comprar
?I hate hockey!? is the first and last sentence in this novel that offers a great take on our love-hate relationship with hockey. Narrator Antoine Vachon blames the game for killing his marriage with his beautiful ex-wife (well, that and the power outage that brought her home unexpectedly to find him in bed with her intern). But hockey is a pretext for unlikely adventure in this sardonic roman noir that at times flirts with the outrageous. Antoine is a total loser living in a pitiful bachelor apartment after he has lost his wife and his job as a car salesman. When his son?s hockey coach is found dead, he is browbeaten into coaching the team for one night only. He makes it through the game (to great comic effect), but things take a turn for the worse when the team bus stops at a motel after the game. Who killed the former coach and why? Was Antoine?s son involved? Or his ex-wife? The late coach was close to his players, perhaps too close? And why is Antoine unable to communicate with his son? François Barcelo?s humour and brilliant story telling is finally available in English. I Hate Hockey reads quickly, but is meticulously stitched together. Though subtle signposts are present throughout, every development comes as a total surprise.
PETER MCCAMBRIDGE
Peter McCambridge is a professional translator. He has an MA in Modern Languages from Cambridge University. His MA thesis is on the Montreal Canadiens and popular culture in Quebec. Peter McCambridge translated I HATE HOCKEY by François Barcelo (Baraka 2011). He also won the John Dryden Translation Prize
FRANçOIS BARCELO
François Barcelo is author of more than forty novels for adults and younger readers. A past winner of the Governor General?s Award, he was the first Quebecer published in Gallimard?s prestigious Série Noire collection. His novel Cadavres was made into a movie in 2008. I Hate Hockey is his first novel in English.