IMPLAC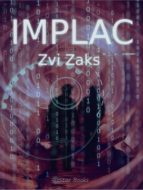 Ficha técnica

Editorial:

ISBN:

9781612102016

Idioma:

INGLÉS

Formato:

EPUB

DRM:

Si
Comprar
Schools, churches and government all insisted that none of the sadistic and genocidal implac robots had survived the Great War, but Tommy McPherson never believed them. When he heard about a tunnel on the moon ? one uncharted and too straight to be natural ? he knew the time had come to investigate what was hidden there and face his most terrifying nightmares...


Excerpt

Deep in its tunnel, the machine blinked.

A reflex--a circuit unconnected to the self-awareness module--caused a cleansing membrane to wipe the optic sensors. In the airless tunnel, no dust had settled on the eye, so the reflex was unnecessary, an inefficient vestige of the machine?s remote origin as a human creation. But, inefficient or not, the machine blinked.

It blinked when the probe?s laser flashed.

On system check, it discovered its batteries were depleted, though all its modules appeared functional. Its power supply was low, but it was far from helpless.