INSIDE THEIR HEARTS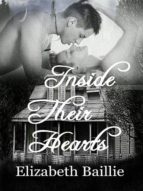 Ficha técnica

Editorial:

ISBN:

9780994821843

Idioma:

INGLÉS

Formato:

EPUB

DRM:

Si
Comprar
I had almost forgot who I was until I met him. Elijah stirred something within me. I had stared at him from afar. He was dangerous and seductive. Fantasies of him and I together played in my daydreams. I did my best to keep them there.
Then one encounter with him changed my world. He took me back to where he and his other lover Zak lived. The memories came alive in my head. They wouldn?t leave and I suddenly knew that Elijah and I had a past. He had become one of Hades boys and I was not.
I was left with the blood lust inside me-a vampire. He was a demon. But our lives were spent together oh so long ago. We were to be married. How could that be?
I had to find out and the only one who held answers was a captive witch who was held by Hades. My love and other lover Zak told me to stay away from her but I couldn?t. I had to know.
And now here I am, going back against my lover?s wishes and have made a deal with her to get us out of Hades world. Elijah will kill me if he finds out. Betrayal is something he cannot tolerate. But I have no choice. If I want peace for Elijah and me, then I have to do this.
May the heavens above have mercy for me.

Note: Hades is pronounced with a silent "e".