INTENDONS - ACCESSING THE POWER OF INNER MOVEMENT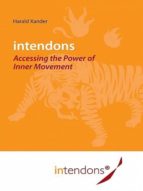 Ficha técnica

Editorial:

ISBN:

9783943173321

Idioma:

INGLÉS

Formato:

EPUB

DRM:

Si
Comprar
Intendons - "Accessing The Power Of Inner Movement" is the first volume of the INTENDONS-book series.
The series presents exercises designed to increase blood flow to tendons, ligaments and fascia, in order to supply them with more oxygen and nutrients. As a result, the tissue regenerates faster and is better protected against injury.
The exercises are based on a simple basic idea and are easy to learn. They are also ideal for people with impaired mobility, since they do not involve any external motions.
This first volume of the INTENDONS series familiarizes you with the basic principles of the method. The exercises were selected to enable you to teach yourself the basics in self-study.

About the author
Harald Xander is a coach and management consultant. His fascination with the Taoist doctrine of "action through non-action" (wu wei) has led him on an unexpected detour to the work with tendons, ligaments and fascia. His Chinese zodiac sign is the water tiger.