INVISIBLE LINES OF CONNECTION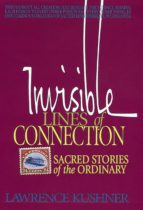 Ficha técnica

Editorial:

ISBN:

9781580236058

Idioma:

INGLÉS

Formato:

EPUB

DRM:

Si
Comprar
?Suppose there is something going on in the universe which is to ordinary, everyday reality as our unconcious is to our daily lives? Softly, but unmistakably guiding it. Most of the time, we are unaware of it. Yet, every now and then, on account of some ?fluke,? we are startled by the results of its presence. We realize we have been part of something with neither consciousness nor consent. It is so sweet?and then it is gone. You say, ?But I don?t believe in God.? And I ask, ?What makes you think it matters to God?"?
?from
Lawrence Kushner, whose previous books have opened up new spiritual possibilities, now tells us stories in a new literary form.
Through his everyday encounters with family, friends, colleagues and strangers, Kushner takes us deeply into our lives, finding flashes of spiritual insight in the process. Such otherwise ordinary moments as fighting with his children, shopping for bargain basement clothes, or just watching a movie are revealed to be touchstones for the sacred.
This is a book where literature meets spirituality, where the sacred meets the ordinary, and, above all, where people of all faiths, all backgrounds can meet one another and themselves. Kushner ties together the stories of our lives into a roadmap showing how everything ?ordinary? is supercharged with meaning?if we can just see it.
RABBI LAWRENCE KUSHNER
Rabbi Lawrence Kushner is one of the most widely read authors by people of all faiths on Jewish spiritual life. He is the best-selling author of such books as Invisible Lines of Connection: Sacred Stories of the Ordinary; God Was in This Place & I, i Did Not Know: Finding Self, Spirituality and Ultimate Meaning; Honey from the Rock: An Introduction to Jewish Mysticism; The Book of Letters: A Mystical Hebrew Alphabet; The Book of Miracles: A Young Person's Guide to Jewish Spiritual Awareness; The Book of Words: Talking Spiritual Life, Living Spiritual Talk; Eyes Remade for Wonder: A Lawrence Kushner Reader; I'm God, You're Not: Observations on Organized Religion and other Disguises of the Ego; Jewish Spirituality: A Brief Introduction for Christians; The River of Light: Jewish Mystical Awareness; The Way Into Jewish Mystical Tradition; and co-author of Because Nothing Looks Like God; How Does God Make Things Happen?; Where Is God?; What Does God Look Like?; and In God's Hands. He is the Emanu-El Scholar at San Francisco's Congregation Emanu-El and an adjunct professor of Jewish mysticism and spirituality at Hebrew Union College?Jewish Institute of Religion.

Rabbi Lawrence Kushner is available to speak on the following topics:
? Jewish Mystical Imagination
? Rymanover's Silent Aleph: What Really Happened on Sinai
? Zohar on Romance and Revelation
? What Makes Kabbalah Kabbalah
? Sacred Stories of the Ordinary: When God Makes a Surprise Appearance in Everyday Life