KELSEY SHINING BRIGHT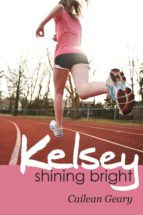 Ficha técnica

Editorial:

ISBN:

9781934074930

Idioma:

INGLÉS

Formato:

EPUB

DRM:

Si
Comprar
The school year is just beginning, and twelve-year-old Kelsey Baker has a lot on her mind. September brings opportunities for new friendships, beginning when Allie Anderson moves in next door. The girls bond over Allie's interest in learning about Kelsey's Deafness, as well as their shared love of running. They quickly become friends and are excited to join their school's cross country team together. But Kelsey soon wonders whether she has to pretend to be someone she isn't in order to be a part of the team. Plus, balancing her old friendships with her new ones and dealing with less-than-kind classmates are both much more difficult than she thought. She wonders where she fits in and whether her family and friends really understand her. Kelsey needs to bring her different worlds together, but how? This year will test her courage, patience, and confidence, but, despite it all, Kelsey's shining positivity and determination will lead her to realize who she truly is: a girl of many colors.
CAILEAN MCCARRICK GEARY
Cailean McCarrick Geary was born on November 5, 1993, in New York. Her love of writing began early on and was expressed in poems, stories, and even a hand-printed family newspaper. At the age of ten, she entered a short-story contest for a school English assignment. When her story won the top award and was later published in an anthology, Cailean received all the encouragement she needed to take writing more seriously. She began writing creatively at every opportunity, gradually expanding to longer works. Her first completed novel, Kelsey Shining Bright, was written over a three-year period and incorporates some of her family experiences. Cailean?s interest in Deaf culture is rooted in the signs that she learned and the stories about her Deaf uncle that she heard throughout her youth. The process of writing the novel was a learning experience in many ways, and, hopefully, the product is the first of many more books to come. Cailean enjoys running, reading, watching collegiate sports, venturing into New York City, and spending time with family and friends. A college freshman, Cailean lives in Crestwood, New York, with her parents and two sisters.