KENTUCKY WEED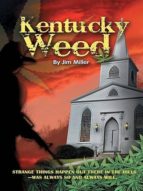 Ficha técnica

Editorial:

ISBN:

9783959267212

Idioma:

INGLÉS

Formato:

EPUB

DRM:

Si
Comprar
Strange Things Happen Out There In The Hills - Was Always So And Always Will.

Joshua Stiles was lost. He quit the Marine Corps to search, but failed to find his estranged wife and son. Now rudderless and alone, his search for meaning brought him back to the hills of Kentucky where he hoped to discover his family legacy. It wasn?t what he expected. Instead of a peaceful Mayberry R.F.D., he found his parents? two clans locked in bitter conflict over the marijuana trade. Could he be the peacemaker to end their century-old blood feud? Could he deal with big city gangsters, high-tech DEA agents and the complex web of clan alliances among people who weren?t just stubborn, they were harder than tombstone granite?

?In KENTUCKY WEED Jim Miller uses imagination and reality to weave a story of intrigue and action that focuses on marijuana and moonshine. It has the hard ring of truth while treating the Appalachian community with compassion and respect.?-Harlan Ogle, Wayne County Historical Society, Director for Life.

?Now this is a good Christian place to raise kids. You can leave your keys and your wallet on the dashboard of your car and not worry. Just don?t go off the main roads.?-Former Sheriff of Wayne County in a talk to a Homeowners Association.

?Now, if you want the best bourbon, the best thoroughbreds, the best Burly tobacco or the best marijuana, Kentucky is the place to go. We have the climate, the soil and the tradition to produce quality product. So come on down and get mellow in the Bluegrass.?-Name withheld on request.