KONSTANTIN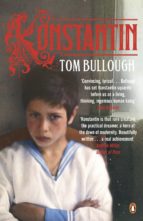 Ficha técnica

Editorial:

ISBN:

9780141972213

Idioma:

INGLÉS

Formato:

EPUB

DRM:

Si
Comprar
Tom Bullough's Konstantin is a mesmerising novel about how the imagination can inspire the individual to greatness.
1867, Ryazan, a Russian city in winter. Ten-year-old Konstantin, deafened by scarlet fever, dreams of flight - escaping to Moscow, fleeing to the silent stars. And his daring visions, pregnant with humanity's future, will take him further than anyone could believe.
Moving from wolf-infested forests to the brothels of Moscow, from village life to the wondrous Age of Steam, from appalling tragedy to the discovery of a great love, Konstantin tells the beguiling story of a man who imagined the unimaginable: turning the dream of space travel into a reality.
As vivid and evocative as Hilary Mantel's Wolf Hall and David Mitchell's The Thousand Autumns of Jacob de Zoet, Konstantin is a story of man, nature, and the limitless power of the imagination.
Praise for Konstantin:
'Convincing, lyrical. Bullough has set Konstantin squarely before us as a living, thinking, ingenious human being' John Banville
'Konstantin is that rare creature, the practical dreamer, a hero at the dawn of modernity. Beautifully written . . . a real achievement' Andrew Miller, author of Pure
'Enchanting, wonderfully eloquent. A very alluring read' Time Out
Tom Bullough was born in 1975 and is the author of two previous novels. He lives in Breconshire, in mid-Wales, with his wife and young son.