LITTLE BOOK OF SUNSHINE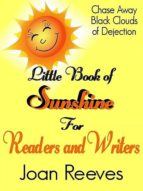 Ficha técnica

Editorial:

ISBN:

9780991599608

Idioma:

INGLÉS

Formato:

EPUB

DRM:

Si
Comprar
Little Book of Sunshine is an attitude adjustment disguised as a book. Let's drop negativity like the bad habit it is. Make optimism your attitude of choice. This little book of inspiration is designed to lift you out of your doldrums, give you a shot of motivation, and a heaping spoonful of encouragement.

All of us experience defeat and rejection at some point no matter how hard we persevere or how hard we work. Sure, we know that there are no bargains at the counter of success, but we still don't expect the struggle to be so darn hard.

How do you keep going when everything seems to conspire to kick you in the teeth? How do you persist when you feel little validation for your efforts? Often, there comes a point in the struggle when you just need a little help from outside yourself to lift you up and keep you going.

If the black clouds of dejection are hovering, and it's raining on your parade, then let this Little Book of Sunshine: For Readers and Writers put a smile on your face, boost your motivation, and give you the energy to continue on your journey to success.

What are you waiting for? The only thing you have to lose is the bad attitude that's holding you back.