MALEVOLENCE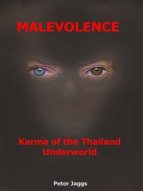 Ficha técnica

Editorial:

ISBN:

9786162450587

Idioma:

INGLÉS

Formato:

EPUB

DRM:

Si
Comprar
Best-selling author of books about Thailand and Asia Peter Jaggs takes time out from his more usual light-hearted travelogues to bring his readers a haunting tale of violence, greed and retribution in the Thai underworld.

First told to him as a true story in a bar in Pattaya by an ancient mamasan, Jaggs has molded the old woman?s reminiscences into a chilling tale that those of a weak constitution might do better to leave well alone.

Peppered with almost Dickensian characters from the backstreets of Bangkok and Pattaya and seasoned with insights into the sub-culture of the outcasts of Thailand, ?Malevolence? is a book that will keep you turning the pages in fascinated horror, towards a harrowing twist in the final pages that will keep the nightmares recurring for many months to come.