MESSAGES FROM JESUS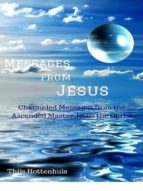 Ficha técnica

Editorial:

ISBN:

9783958307254

Idioma:

INGLÉS

Formato:

EPUB

DRM:

Si
Comprar
My name is Thijs Hottenhuis, and I am the receiver of the materials in this Ebook. In recent years I have undergone a spiritual awakening, which has brought me in closer connection to the Holy Trinity that lives in all of us. I now believe that it is the destiny of every member of humanity to grow in spiritual consciousness until we have all reached full Christ-consciousness. I believe that it is the destiny of every human being to follow Jesus through His resurrection and ascension. And I believe that Jesus wants to talk to all of us about this, to help and guide us. As Jesus has stated in the Bible, ?...I am with you alway, even unto the end of the world.? (Matthew 28:20, KJV).

Let it be clear that I am not the writer of this Ebook. I merely receive messages and pass these on. Since a while I have received messages from Jesus, and now He has asked me to turn these into an Ebook. The messages you find in this Ebook, including the introduction and the epilogue, are channeled messages from the ascended Master Jesus the Christ, who wants to talk to you, about the Truth that will set you free. I am grateful and humble that I have received these messages, and I gladly pass them on, because salvation and the message of salvation is meant to be shared. Hallelujah! Praise the Lord! Amen!

I encourage you to read the free preview of the Ebook and to get inspired!