MICHAEL O'LEARY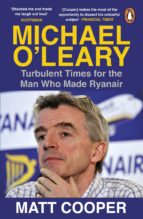 Ficha técnica

Editorial:

ISBN:

9780241315644

Idioma:

INGLÉS

Formato:

EPUB

DRM:

Si
Comprar
Financial Times Business Book of the Month
September 2017. Ryanair cancels over 700,000 bookings and its powerful PR juggernaut comes shuddering to a halt. For once, the airline's aggressive and flamboyant CEO, Michael O'Leary, is contrite and apologetic.
A month later Ryanair announces increased passenger traffic for October, year-on-year growth and increased profits. Its share price soars. For the moment, it appears, a fundamental shake-up of Europe's biggest airline is off the table. But questions remain about the causes of the debacle and O'Leary's role in it.
Michael O'Leary lifts the veil on the wildly successful and wildly controversial Ryanair CEO. Based on extensive research - including with close associates of O'Leary - the book examines O'Leary's personality, beliefs and obsessions and describes how these have moulded the business he runs. Written by a multi-award-winning journalist and broadcaster, with a thirty-year career covering business and current affairs, it is a fascinating insight into the business behind the man, and the man behind the business.
'Fascinating book ... very comprehensive' Eamon Dunphy, The Stand
'An indispensable guide for anyone who wants to understand not just where Michael O'Leary and Ryanair are coming from, but where they are going.' Sunday Business Post
'A frequently enlightening unauthorised biography ... entertaining' Irish Independent
'In a world of colourless corporate leaders, Ryanair's aggressive, mouthy chief executive provides catnip for journalists. Cooper, an award-winning Irish writer and reporter, makes the most of the opportunity to dissect his colourful subject' Book of the Month, The Financial Times
MATT COOPER
With nearly thirty years' experience - as an award-winning reporter (Business & Finance, Sunday Business Post, Irish Independent), editor (Sunday Tribune), broadcaster (Today FM) and columnist (Irish Daily Mail) - Matt Cooper is one of the outstanding Irish journalists of his generation. He is the author of three critically acclaimed and bestselling books - Who Really Runs Ireland?, How Ireland Really Went Bust and, most recently, The Maximalist, the definitive biography of Ireland's first truly global business star, Tony O'Reilly. He lives in Dublin with his family.