MISSION POSSIBLE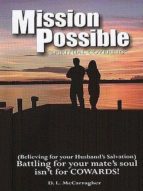 Ficha técnica

Editorial:

ISBN:

9780615285856

Idioma:

INGLÉS

Formato:

EPUB

DRM:

Si
Comprar
Are you tired of attending church alone? Do you yearn for a relationship with your husband that?s spiritually satisfying? You can influence your home for Christ even within a spiritually mismatched marriage.

Your mission, if you choose to accept it, is to stand in the gap for your mate?s soul. This small book is a powerful tool for any woman who is married to a man who does not share her passion for Jesus.

This book will encourage and challenge the reader to embrace God?s promises for their spouse and future together. You will:

* Discover how to believe with radical faith for your spouse?s salvation
* Learn the secret to ?staying the course? while you wait for your promise
* Find out why many women don?t like to share their ?secret sorrow?
* Overcome your own fears and doubts about your husband?s future with God
* Join other women in the knowledge that God has a perfect plan of unity for you and your spouse.

At just 80 pages (print version) this short book is an "easy read", but has much to say. You will refer back to it over and over again... This "life changing" book is one you will not want to put down... The ?mission? is one in which you, the reader, will join one woman's quest to reach her husband for Christ.