MISSTRESS & SLAVE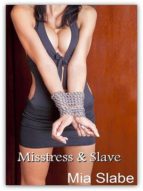 Ficha técnica

Editorial:

ISBN:

9783958303935

Idioma:

INGLÉS

Formato:

EPUB

DRM:

Si
Comprar
Please have a free look inside my book!

Summary:
Wanted: Male Slave

20-35, reasonably attractive, reasonably fit, NS/ND. Your attitude will be your most important trait. You will live in, 24/7. Please familiarize yourself with the dictionary definition of "slave." This is not about your fantasy or your pleasure. Serious inquiries only. Attach photograph.

Chapter Summaries:
A kinky businesswoman places an ad for a slave. / John spends his first full day as a slave to his mistress. / Mistress Jenna uses a riding crop to the utmost effect. / Jenna has a bad day at work and uses her slave to unwind. / Jenna's sister comes for an unexpected visit. / Tina discovers Jenna's secret, much to her chagrin. / Jenna opens Tina's eyes to her long-neglected inner slut. / Jenna brings home a new pet to enjoy. / Jenna explores Tina's new-found need for pain.

Genre: BDSM, LezDom, Lesbian, FemDom
All character are 18 years or older!