MORNING TRADING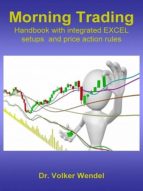 Ficha técnica

Editorial:

ISBN:

9783959261081

Idioma:

INGLÉS

Formato:

EPUB

DRM:

Si
Comprar
The unique advantage of this handbook is the combination of a systematic analysis methodology with powerful EXCEL tools, setup selection and price action monitoring and trading rules.
The functionality of the EXCEL tools covers price and volume indicators, swing pivots, candle stick patterns, Fibonacci retracements and extensions, Wolfe waves and Elliot Waves. These tools define the current market structure and select the corresponding setups that will be used as a framework for dedicated price action monitoring rules.
The price action monitoring starts with the transition from last day's closing via overnight movements to the regular opening phase and is continued after the regular opening, leading to clear entry rules.
Using this trading method helps you achieve a new, efficient trading style focused on large price moves following predictive patterns during the morning hour. It helps avoid overtrading by aiming at ?one good trade per day?.