MY BROTHER THE GIANT: THE MOROZON ADVENTURE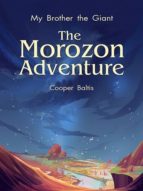 Ficha técnica

Editorial:

ISBN:

9783959264891

Idioma:

INGLÉS

Formato:

EPUB

DRM:

Si
Comprar
Have you ever seen a really tall person? You know, like two meters tall? Well, imagine a person twice that size and that's my brother Fafner. He's a giant, you see. It's strange because he's the only giant in our family (apart from my grandparents) so our house is a little bit strange, we have two of everything - one for giants and one for us.

Anyway, this book is about our first adventure. It's the one where we (my brother Fafner and I) first meet Renata, the Morozon princess. It's a great story, even if I do say so myself. It's full of adventure and mystery, heroic acts and sinister villains, but don't worry, it's not too scary, so you can all read it... your parents would probably like it, too.

I hope you enjoy the Morozon Adventure. I'll see you again in our next adventure - The Dragon and the Underground City.

The Morozon Adventure is published by Hippo Books, a publisher dedicated to producing interesting, readable and fun books. This book is suitable for English students with intermediate English or higher. Be sure to check out our other Hippo Graded Readers.

About the Author:

Cooper Baltis is one of the writers and founders of Hippo Books. He is a former Fulbright English Teaching Assistant at the National University of Mongolia and is TESOL certified. He has taught English in Asia for five years and has published stories in several literary magazines in America. His Hippo books include Hassan and Lulu and My Brother the Giant, as well as many short story collections.