MY WEREBEAR ROMANCE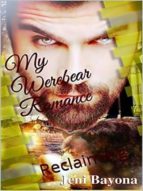 Ficha técnica

Editorial:

ISBN:

9781633233065

Idioma:

INGLÉS

Formato:

EPUB

DRM:

Si
Comprar
Her memories of Gabe erased, Abigail explores the world of werebears with the help of Seth, the Alpha who claimed and promised to love her. Little did she know, behind all his smiles and love is a cunning manipulation to keep Abigail?s body for his own while enjoying the power that a white like her could provide to a Black Alpha.
Gabe, vanished from their pack, finds help in the arms of his uncle and sister who talks him into finding a white mate in order to gain enough power in overthrowing Seth and claiming Abigail back but the deal would include him using other people for his own needs. Will he give in to his desires of having Abigail back with the cost of manipulating other people which is against his principles?
As they meet again, will the flame they once shared be warm enough to melt the cold walls that destiny has put up between them? Will Abigail finally break free from Seth?s manipulation? Is Gabe going to allow vengeance to rule over him if it would require him to be no less bloodthirsty as Seth in order to defeat him? Is a future together still worth the fight if it costs lives?