NAUGHTY DINNER PARTY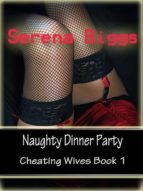 Ficha técnica

Editorial:

ISBN:

9780988120341

Idioma:

INGLÉS

Formato:

EPUB

DRM:

Si
Comprar
He likes to watch

When Candace and her husband Jason go out dancing with her friends a hot guy tries to pick Candace up. Jason realizes he likes rescuing his wife from men. They have the best sex they've had in a long time. Jason suggests they enlist a friend to come onto Candace. Jason watches his friend and Candace together, getting more turned on by the moment. How far will Jason let it go before he intervenes?
She likes to be watched

When her husband rescues her from a guy at a bar, Candace is so turned on she can't wait for it to happen again. And if she gets to have sex with a few strangers, or friends, all the better.

Warning: This 4,200 word short story is for adults only. It contains explicit, graphic depictions of sex. It includes cheating, role playing, a husband watching his wife with another man.