NAUGHTY HOUSE GUEST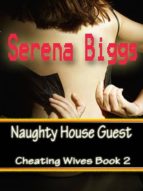 Ficha técnica

Editorial:

ISBN:

9780988120365

Idioma:

INGLÉS

Formato:

EPUB

DRM:

Si
Comprar
When Candace and her husband Jason discover he likes to watch her have sex with other men, Candace's world opens up. Fantasies long buried come to the surface. But for Jason there is a catch. He likes to rescue his wife from the arms of other men. Trouble is, Candace isn't too keen on using their safe word.

Jason watches and listens to her having sex with Marcello who they've known for a long time. The more he sees the more turned on he gets. How far will he let it go if she doesn't say the safe word? Will he punish her if she says it too late?

Warning: This 5,500 word short story is for adults only. It contains explicit, graphic depictions of sex. It includes cheating, masturbation, creampies and may be considered offensive to some readers.