NINE TALES OF MURDER.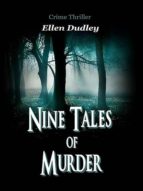 Ficha técnica

Editorial:

ISBN:

9783961421527

Idioma:

INGLÉS

Formato:

EPUB

DRM:

Si
Comprar
Crime Thriller.
Nine Murderous Tales
In my First Murder, when Detective Inspector William Taylor was called to the scene of an unexplained death, he never expected to be confronted with a possible murder, his first murder, but then again there were many things, faced with unexpected events as the investigation proceeded; strange events, events ending in unimaginable horror.
*
In the Natural Order of Murder, Taylor is faced with a brutal rape and murder. Later, the four suspected rapist/murders are found shot dead with a sniper rifle. While searching for clues in the nearby woods he finds a child alone and naked in the middle of a forest clearing pose.
*
In Getting Away with Murder, Taylor comes to the conclusion it is true that a certain percentage of people will give everything they have without asking why, or for recompense, one only has to provide a good enough reason and the deed is done. However, some people misguidedly put love before duty and some follow love blindly and forget their duty to their fellow men, or women leading to dire consequences.
*
When someone is Intent on Murder, it is plausible that most people will do something for love, and even more will do anything for money; all one has to do in some cases is to sow a tiny seed, tell a story to the right person, in fact, wind them up, point them in the right direction and let them go.
*
When faced with the fact that the act was Definitely Murder, Taylor discovers that within all of our minds there are demons, a natural part of our identity, our personality, growing naturally, and some growing unnaturally, fed by fear or by greed or by ignorance or a combination of all three.
*
When it comes to Dead Reckoning, detective Inspector Ellen Esasa Connor, daughter of a Zulu princess and a British linguist, and her Partner, six foot plus Ted Burns of 100% African heritage have their own rules on interrogation as they search for stolen goods and investigate a plain and simple murder that sounds too good to be true.
*
In the ?The Delicate Touch?, one is sorely needed when Ellen and Ted investigate a graveyard murder and find out that not everything is as it seems in racing circles when the body count increases.
*
Mary Collins is forced to lead An Unchartered Life when in the year 2014, the British National Health Service discovers it has a surfeit of terminally ill patients needing therapy and costly treatment , so a solution was needed ? and one was found.
When, after years of sexual and physical abuse, Mary murders her parents; a drug addict mother and a drunken stepfather, and joins the army. After intensive training in a special killer-combat unit, she finds herself unemployed along with the rest of her comrades -- but, they are immediately offered a job as executioners, as criminals will no longer be tried in a court of law, in fact they are to be exterminated immediately.
*
A long time ago, there was a serial killer known as Mary, Mary, Quite Contrary, and when Ellen, together with a colleague, witnesses the results of a mass killing disguised as an accident she sets off with Ted on the trail of a suspected killer, Mary Collins, and suddenly finds herself with Ted as the next possible candidates from an unexpected quarter.