NO ANCHOR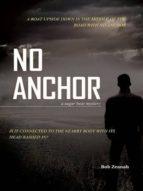 Ficha técnica

Editorial:

ISBN:

9783960280705

Idioma:

INGLÉS

Formato:

EPUB

DRM:

Si
Comprar
A BOAT UPSIDE DOWN IN THE MIDDLE OF THE ROAD WITH NO ANCHOR. IS IT CONNECTED TO THE NEARBY BODY WITH ITS HEAD BASHED IN?

In the early morning hours in the middle of a secluded Creek County road in rural Alabama, a jon boat is found upside down. Nearby is an apparent murder victim with his head bashed in. Sheriff Robert Jackson, known to everyone as Sugar Bear, and his detective, Lynette Williams, must find clues. What they found was no anchor for the boat. The victim is the abusive husband of a woman who escaped to Creek County several months earlier. She is the obvious suspect with more ties to Creek County than anyone knew. However, something about her makes Sugar Bear doubt her guilt. In addition to solving a murder, Sugar Bear and his deputies must deal with a sophisticated theft ring that has moved into the county. To complicate matters, a former nemesis returns and manages to get Sugar Bear relieved of his duties but he has his own plan to solve all these crimes.

"Bob Zeanah knows small southern towns and the people who inhabit them - the sinners, the saints, the murdered, the murderers, and how to sort them all out. Make this on your must-read list!"-Bill Fitts, Author of the Needed Killing Series./

"Zeanah's writing is noteworthy. He takes his time describing location, movement, and introducing characters. This is where Zeanah excels. His prose is wondrous in its clarity and richness in detail."-Shelley Carpenter, Toasted Cheese Literary Journal.