NO BRASS, NO AMMO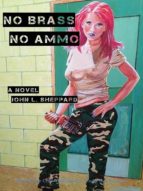 Ficha técnica

Editorial:

ISBN:

9783958305076

Idioma:

INGLÉS

Formato:

EPUB

DRM:

Si
Comprar
In The Peacetime Army, Sgt. Hank Bean Has A War To Fight-For His Life.

For most Americans, with the end of the Cold War and the seeming beginning of an era of peace, 1990 was a year of hope. For Sgt. Hank Bean, D.C. is an Army purgatory. Trapped in a basement with misfit soldiers, Bean receives a phone call from a mystery man identifying himself only as "Gus." It is the beginning of an adventure that involves Bean with paranoids, punks, a desperate communist and Federal agents
"...You start throwing in with the hapless, feckless speaker and rooting for him, as you do with bent, failed detectives. You have a good time seeing someone have a bad time. It's fun... Get the book."-Padgett Powell, author of "You & Me," "Edisto," "The Interrogative Mood."

"...a tale that wins both heart and mind. A robust page-turner, ample proof that fiction still has the power to surprise, delight and inform. Sheppard stakes out his territory with the risky yet unimpeachable flair that has become his trademark."-John Hicks, B2L2.

"...wry humor and clever wit...a cast of crazy ex-Soviet spies and humorous Army flunkies and dropouts. It's a real page-turner, but also dazzling writing throughout."-Jon Konrath, author of "Rumored to Exist" and "Atmospheres."

"...a Cold War novel that reminds me of Vonnegut and Heller at their most absurd (and human)... Sheppard is the missing link between so many writers, from Nelson Algren to Charles Willeford."-Joseph Hirsch, author of "Flash Blood" and "The Last Slice of Pizza."