NO OTHER WAY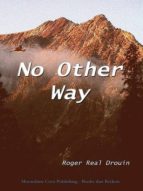 Ficha técnica

Editorial:

ISBN:

9783957037626

Idioma:

INGLÉS

Formato:

EPUB

DRM:

Si
Comprar
A Search For A Bird Believed Extinct Turns Into A Test Of Conscience And Dedication To Save One Of The Last Untouched Wild Lands.

Praise for Roger Real Drouin and no other way

?Drouin?s debut novel...is lyrical and poetic, soft and whispering, telling us, ?It is a hope as light and fragile as the shadows flying through the tall grass???Grey Sparrow Journal

? His prose is fluid and poetic. Drouin is definitely a writer to keep an eye on.??Martin Lastrapes, author of Inside the Outside, winner of the Paris Book Festival Grand Prize.

?...writes with a great sensitivity for detail...brings the reader deep into a natural setting."?Murrary Dunlap, author of Bastard Blue and Alabama.
?Drouin writes about nature with an innate sense of poetry...No Other Way soars for a thousand miles.??Steel Toe Review

Roger Real Drouin manages to capture the natural beauty of nature in nothing more than words and to do so in abundance....a gem in the literary world.??Dan Schwartz, author of No Cure for Nature

?...beautifully textured images...staggering metaphors...magic still exists.??Sheldon Lee Compton, author of The Same Terrible Storm

As Samuel Leaton searches for the believed-extinct Northern Stilted Curlew, he struggles with the memory of his wife, who died a year earlier from cancer. Deep in the woods, he encounters Thomas, a forest ranger who has a run-in with the law, and together they will make a trek to the far reaches of Wilson Sanford National Forest's northern glacial lakes to prove the Curlew exists?and to make a final stand to save it?s last breeding ground.