ON WRITING HISTORY FROM HERODOTUS TO HERODIAN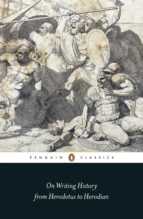 Ficha técnica

Editorial:

ISBN:

9780141393582

Idioma:

INGLÉS

Formato:

EPUB

DRM:

Si
Comprar
What is history and how should it be written? This important new anthology, translated and edited by Professor John Marincola, contains all the seminal texts that relate to the writing of history in the ancient world.
The study of history was invented in the classical world. Treading uncharted waters, writers such as Plutarch and Lucian grappled with big questions such as how history should be written, how it differs from poetry and oratory, and what its purpose really is. This book includes complete essays by Dionysius, Plutarch and Lucian, as well as shorter pieces by Pliny the Younger, Cicero and others, and will be an essential resource for anyone studying history and the ancient world.
JOHN MARINCOLA
John Marincola was born in Philadelphia in 1954, and was educated at Swarthmore College, the University of Pennsylvania, and Brown University. He has taught at the College of the Holy Cross in Massachusetts, and at Union College in New York, and is currently an Associate Professor of Classics at New York University. From 1997 to 1999 he was Executive Director of the American Philological Association, and in 1999-2000 he was a Junior Fellow at the Center for Hellenic Studies in Washington, DC. He is the author of Authority and Tradition in Ancient Historiography (Cambridge, 1997), Greek Historians (Greece and Rome New Surveys in the Classics 31, Oxford, 2001), and of several articles on the Greek and Roman historians.