ONE POT WONDERS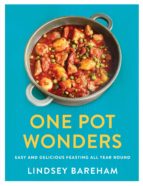 Ficha técnica

Editorial:

ISBN:

9780241398678

Idioma:

INGLÉS

Formato:

EPUB

DRM:

Si
Comprar
Bored with your complicated new year diet or fed up of recipes that leave you with endless washing up?

This collection of 100 simple and nutritious one-pot recipes is the perfect antidote, and will help you get 2019 off to a delicious start.
Stand-out recipes include:
· Lindsey's OVEN BAKED MEATBALLS with sweet potato and roasted shallots
· SAFFRON CHICKEN with apricots and cardamom
· ARTICHOKE LINGUINI with green olives and parmesan
· GOOSEBERRY & ELDERFLOWER ALMOND CRUMBLE
With dishes to suit every occasion, this collection is divided into the following chapters:
· Fry-ups
· Salads
· Bakes
· Big Soups
· Stews
· Curries
· Pasta
· Noodles
· Rice
· Puddings
All of these warming recipes feature big flavours from all around the world but, more importantly, they are incredibly easy to make.
LINDSEY BAREHAM
Lindsey Bareham is one of the UK's most talented cookery writers. Her daily after-work recipe column for the Evening Standard ran for 8 years and she currently writes the much-loved 'Dinner Tonight' column for The Times.
The author of 13 cookery books, including In Praise of the Potato, A Celebration of Soup, The Big Red Book of Tomatoes, The Fish Store and The Trifle Bowl and Other Tales, Lindsey also co-wrote The Prawn Cocktail Yearswith Simon Hopkinson, and helped him write Roast Chicken and Other Stories, voted the Most Useful Cookery Book Ever by chefs and food writers.