ORPHAN OF THE OLIVE TREE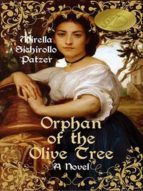 Ficha técnica

Editorial:

ISBN:

9780986843945

Idioma:

INGLÉS

Formato:

EPUB

DRM:

Si
Comprar
From two neighboring villas in the heart of the Tuscan countryside to the elegance of Siena; from a world steeped in ancient superstitions to a culture where family honor is paramount comes, this multi-layered novel of the lives, loves, secrets and strivings of two women and their families in the 13th century.

Felicia Ventura dreams of a happy future raising a family, but her hopes are shattered because of a curse and the casting of the evil eye by her envious neighbor, a dark Sicilian beauty named Prudenza. Prudenza?s envy of Felicia turns into a dangerous, frenzied obsession and she revives an ancient superstition, spreading the rumor that Felicia?s twins were fathered by different men. The scandal destroys Felicia?s marriage. But when Prudenza gives birth to twin daughters of her own, she is desperate to save face and rids herself of one infant, keeping the child?s existence secret. As the years go by, the truth has a way of making itself known. Soon Prudenza?s deception will lead to the unraveling of everything she values in life.

An absorbing novel about wicked intentions, medieval superstitions, a curse uttered in envy, undisclosed secrets, unstoppable destinies, and two generations of women and the extraordinary event that will vindicate or destroy them.