OUR RELIGIOUS BRAINS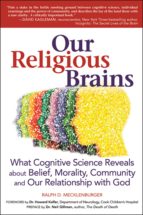 Ficha técnica

Editorial:

ISBN:

9781580236133

Idioma:

INGLÉS

Formato:

EPUB

DRM:

Si
Comprar
A Revolution in Human Self-Understanding Is Underway
What Does It Mean for Religion and Our Belief in God?
The brain and consciousness are themselves awe-inspiring. So learning about them no more undermines religion than learning about how symphonies and paintings are crafted takes away from our appreciation of music and art. Science alone does not provide the ultimate answers or firmly rooted values for which we yearn. But religion alone does not have all the answers either. We are blessed, as moderns, with both.
from the Introduction
This is a groundbreaking, accessible look at the implications of cognitive science for religion and theology, intended for laypeople. Avoiding neurological jargon and respectful to all faiths, it examines:
Current theory on how our brains construct our world in order to guide us safely through life, creating and appreciating meaning as we go.
What religious experience is as it plays out in our brains.
How modern science challenges historic ideas about free will and undermines the religious concept of the soul as a meta-physical entity separable from the body.
What cognitive science reveals about our need for community.
Why we should be loyal to one faith if, in fact, all major religious traditions deal effectively with universal human needs.
RABBI RALPH D. MECKLENBERGER
Ralph D. Mecklenburger speaks nationally on topics related to science and religion, Judaism and Jewish-Christian dialogue. He is rabbi at Beth-El Congregation in Fort Worth, Texas, an adjunct faculty member at Brite Divinity School, and has served as the Jewish co-chair of the Texas Conference of Churches' Jewish-Christian Forum.