PALE MOONLIGHT (7 POST MERIDIEM #1)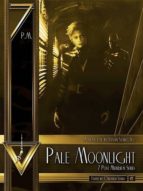 Ficha técnica

Editorial:

ISBN:

9789638946119

Idioma:

INGLÉS

Formato:

EPUB

DRM:

Si
Comprar
December 1936, New York. Detective Jack Kelly bravely faces harsh daily life to always emerge victorious, but every evening as the clock chimes seven, he prepares for the battle he has always lost.
Length: 8304 words.

7 Post Merdiem Series
A short novel series, 7 Post Meridiem comes in various genres where only one element connects every story; it plays in all times and space with each happening at seven in the evening. The first issue, Pale Moonlight is a noir novelette, was written by the author of the Auralight Fantasy series, Crystal Shade.

IMPORTANT: Please be advised that Pale Moonlight is a short novelette. Therefore, please check the word count in the product description and read the excerpt before making any purchase.