PIONEERS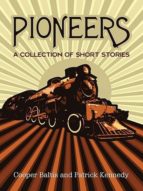 Ficha técnica

Editorial:

ISBN:

9783959263849

Idioma:

INGLÉS

Formato:

EPUB

DRM:

Si
Comprar
It could be a moment of inspiration, or a lifetime of work. It could be the drive to succeed, or the need to save lives. The need to innovate is what keeps the world turning. The spirit of the pioneer moves us forward through the ages.

In this collection of short stories about great Pioneers, you will read about William Morton, the brave dentist who perfected anesthesia by practicing on himself; and Marie Curie, who dedicated her entire life to the advance of scientific knowledge. You will also learn about Frederick Douglass, who went from being a slave to advising Abraham Lincoln; and Ada Lovelace, one of the first people to realize the power of computers. We also recount the stories of how the Lumière brothers invented what we now know as the cinema; and how Nikola Tesla proved that alternating current was safe... by electrocuting himself live on stage.

Pioneers is published by Hippo Books, a publisher dedicated to producing interesting, readable and fun books. This book is suitable for English students with intermediate English or higher. Be sure to check out our other Hippo Graded Readers.