PIPELINE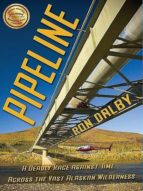 Ficha técnica

Editorial:

ISBN:

9783959262590

Idioma:

INGLÉS

Formato:

EPUB

DRM:

Si
Comprar
A DEADLY RACE AGAINST TIME ACROSS THE VAST ALASKAN WILDERNESS

An overworked detective, a dedicated game warden, and a veteran bush pilot team up in this epic saga as big as Alaska itself. A child is snatched from the Anchorage bus station. Clues developed during the search suggest she's being held by a pedophile and his ex-con buddy, and that they are hatching a plot to blow up the trans-Alaska pipeline. Then Detective Gomez learns that the pedophile murdered his last victim. The race is on to save the child before the killer tires of her and to prevent a monumental environmental disaster in the heart of Alaska?s sweeping wilderness.

COMMENTS FROM READERS

?A real page-turner.?-Ken Marsh, Public Information Officer, Alaska Department of Fish & Game.


?A good read.?-Larry Bottjen, videographer and retired Alaska educator.


?I ripped through this book in two days while at my resort, reading it from cover to cover on a holiday weekend.?-Gale Kaas, publisher," Frazee (Minnesota) Forum", a weekly community newspaper.

?The helicopter rescue...absolutely the best flying story I have ever read.?
-James Cavin, retired Alaska Fish and Wildlife Trooper.

?I couldn?t put it down, it so thoroughly held my attention and kept me on the edge of my seat.?-Paul Schlienz, Managing Editor, "Washington Restaurant Magazine."