PLUM SPRINGS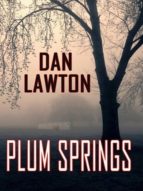 Ficha técnica

Editorial:

ISBN:

9783962464752

Idioma:

INGLÉS

Formato:

EPUB

DRM:

Si
Comprar
FACED WITH THE AFTERMATH OF A LIFE-ALTERING DECISION, A NINE-YEAR-OLD BOY SEEKS SOLACE IN THE KENTUCKY FOREST IN PURSUIT OF HAPPINESS, LOVE, AND ACCEPTANCE.

After a life time of abuse, nine-year-old Rusty Travis and his older brother Bo decide their father must be stopped when, in a drunken rages, he goes after their six-year-old sister. After their vengeance is complete, they seek refuge in the tall oak forest where the stumble upon a mysterious runaway orphan. This leads to uncovering secrets about themselves and their family they never imagined leading Rusty to question everything he thought he knew. With his brother by his side, they battle with the demons that shatter their world in the sleepy town of Plum Springs.

The screen door on the porch of the trailer smashed against the post again, temporarily paralyzing him. Instead of seeing his father on the porch, Rusty saw Ruby, and she was running toward him and Bo. It sounded as if she were crying, but Rusty couldn?t tell for certain through her high-pitched screaming. A shiver of horror ran through Rusty?s body when her voice hit his ears. Something was wrong, and he feared the worst. He couldn?t get himself to believe it to be true, though. Ruby was too young. He knew it must have been something their father did, but he didn?t want to imagine the possibilities. Rusty dropped the hoe and ran to where Bo was, closer to the trailer and to Ruby.
Ruby didn?t stop until she ran into the outstretched arms of Bo, who caught her and wrapped his arms around her petite frame like a blanket. It was only a moment later when Ruby pulled away, looked up, and Rusty saw her face up close.
He threw his hands over his mouth and gasped.

?Plum Springs is one of the most intense novels I?ve read in a long time ? Equal parts captivating and heart breaking, I found myself living each vivid moment right there with the likeable nine-year-old protagonist. Dan Lawton is a name to know!??Chad Zunker, Amazon #1 bestselling author of The Tracker (The Sam Callahan Series).

"A poignantly told coming-of-age story of three young children who overcome abuse, finding love and happiness despite all odds. Heart-wrenching and uplifting."?Sibel Hodge, Award winning and #1 International bestselling author of Look Behind You, Untouchable, and Duplicity.