PORT OF PERIL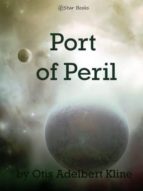 Ficha técnica

Editorial:

ISBN:

9781612103921

Idioma:

INGLÉS

Formato:

EPUB

DRM:

Si
Comprar
Grandon embarks on a perilous search for a missing royal daughter and a port filled with pirates. This is the 3rd book in the Planet of Peril series.

excerpt

Excerpt

"Have you any idea where to look for this hidden port?" asked Grandon.

"We have no definite knowledge of its location, but the belief that it lies to the south has arisen from the fact that pirate fleets, leaving a scene of pillage, have almost invariably been observed to sail southward."

"I believe my flyers can locate it," said Zinlo, toying with his kova cup.

"It's a big world," boomed the gruff Aardvan, "and it will take a deal of flying, sailing, and marching to explore it all."

"Perhaps Mernerum will help us," suggested Ad.

"I take it," replied Grandon, "that you are unaware of the strained, or rather severed relations between Mernerum and Reabon. This morning I ordered diplomatic relations severed with Zanaloth of Mernerum, because of his affront to my wife when she passed through his dominions some time ago."

"We can do well enough without that dissolute old rake," said Zinlo. "But we're keeping you from that honeymoon trip, Grandon. I understand that your expedition was ready to march when Ad and Aardvan arrived."

"We'll give it up," Grandon assured them. "I'm sure Vernia won't mind for such, a worthy cause."

"See here," Ad protested. ?We don't want any such sacrifice. Allow us to take a few of your ships for the present, and perhaps some warriors and munitions in case a landing party is required. Go on your honeymoon. Later, when we've discovered the port of peril, we'll notify you, and let you in at the kill."

"But your daughter has been stolen. Every man on this planet, worthy of the name, should be willing to assist in the search."