RETURN OF THE MAGI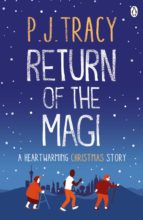 Ficha técnica

Editorial:

ISBN:

9781405934534

Idioma:

INGLÉS

Formato:

EPUB

DRM:

Si
Comprar
Warm your heart this Christmas with this wonderful festive tale from bestselling author P.J. Tracy - perfect for fans of It's a Wonderful Life or Miracle on 34th Street.
Emil Rice has a silver tongue and sticky fingers, the only problem is that his charm always gets him into trouble and he's never been very good at not getting arrested. Twenty-two times he's been caught and twenty-two times he's sworn never to steal again, but it's on his twenty-third arrest when Emil realises he may have picked up more than he bargained for. Sentenced to community service at a secure mental health facility, Emil is unwillingly befriended by two elderly female patients who believe he is the final part of a big cosmic plan that will change their lives forever...
This heartwarming Christmas tale of kindness, friendship and redemption will be perfect for the cold winter nights!
P. J. TRACY
P.J. Tracy was the pseudonym for the mother-and-daughter writing team of P.J. and Traci Lambrecht. Together PJ and Traci were authors of best-selling thrillers Want to Play? (Richard and Judy Book Club pick), Live Bait, Dead Run, Snow Blind, Play to Kill, Two Evils and Cold Kill. P. J. passed away in December 2016, but Traci will continue the series.