ROLLING COUNTRY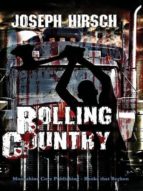 Ficha técnica

Editorial:

ISBN:

9781937327255

Idioma:

INGLÉS

Formato:

EPUB

DRM:

Si
Comprar
Aaron is an over-the-road trucker, a model employee with just one problem: he can't stop killing.

"... a book you won't soon forget ... even though you'll want to."-Dawne Dominique, author of the award-winning First series.

Amy Loeher went missing from her small town a little over a year ago. Everyone has given up on her except for her mother, who hires detective James Arklow, an ex-cop and criminology professor currently on sabbatical from the university where he teaches. The detective's search for the girl will lead him down the highway, where he hunts a deeply disturbed trucker who has left a trail of blood stretching from El Paso, Texas to North Platte, Nebraska.

"... well done and well-written... the ending ... is great and unexpected and original."-Cetwya Powell, filmmaker and publisher of Underground Voices. "

... characters that jump right off the page ... realistic portrayals which will have you biting your nails ..."-T.L Barrett, author of "Hairy Bromance" and author of "The Night Library"