SEAL OF CONFESSION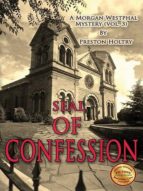 Ficha técnica

Editorial:

ISBN:

9783959267724

Idioma:

INGLÉS

Formato:

EPUB

DRM:

Si
Comprar
Morgan Westphal Investigates A Murder Connected To The Execution Of An Innocent Man, The Legacy Of Early Spanish Land Grants And Railroad Expansion In 1916 New Mexico.

Donato Sanchez was convicted and hanged for the brutal murder
of Carlotta Ridgefield. Father Juan Salas, the victim?s confessor,
believes the executed man was innocent and hires Morgan
Westphal to determine who really committed the crime. Set in
Santa Fe and northern New Mexico in 1916, SEAL OF CONFESSION
a multi-layered plot with seemingly unrelated threads connected
to the murder, the execution, the legacy of the early Spanish Land
Grants and railroad expansion.

?Morgan Westphal ... is the protagonist in this mystery novel set in
early 20th Century New Mexico. The characters are vividly
portrayed, and the realism of both time and location indicate
serious research by the author. But the strongest part of this
excellent story is the plot. It will keep you intrigued from start to
finish.?-Charles H. Hayes, author of THE BRIEFCASE.

?Intricately woven intrigue crafted by a gifted storyteller, SEAL OF CONFESSION
grabs you from the first page and doesn?t let go ...
must negotiate a maze of twists and turns on his way to a jawdropping
truth. Set some time aside; you?re not going want to put
this one down.?-Steve Brigman, author of THE ORPHAN TRAIN.

?... a delightful read. Holtry excels at melding a complex plot with
equally complex characters ... [a}moving and tragic story of a
murdered woman, a conflicted priest and a brilliant detective.
You won?t be able to put this one down.?-Gary Ettari, author of
SENTIMENTAL OVER YOU.

?SEAL OF CONFESSION is a wonderful trip back in time to early in the
20th century .... If you enjoy historical mysteries, you should read
SEAL OF CONFESSION.?-Sheila Lowe, author of the FORENSIC HANDWRITING MYSTERIES.