SECOND COMING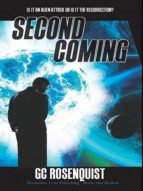 Ficha técnica

Editorial:

ISBN:

9783958309852

Idioma:

INGLÉS

Formato:

EPUB

DRM:

Si
Comprar
IS IT AN ALIEN ATTACK OR IS IT THE RESURRECTION?

While residing on a giant telescope that orbits between the Earth and Moon, the world's richest man and preeminent astronomer, Joshua Forrest, spots a giant glowing sphere coming out from the depths of Sagittarius-A*'s event horizon, the massive black hole located in the center of the Milky Way Galaxy, and it's heading for Earth, ETA - three days! Nothing, not even light, can escape from the gravity of a black hole and nothing can travel faster than the speed of light - so what is this mysterious object and what is its purpose?

"A futuristic adventure that deals with religion and faith honestly. It's about time we've had this discussion."-WB Robert Schenck, Millburn Masonic Lodge #127.

"With intriguing characters and a sound basis in science, GC Rosenquist has crafted a solid, well written science fiction novel for Christians."-Derrick Belanger, Author of The Amazing Airship Adventure and editor of the two volume anthology "A Study in Terror: Sir Arthur Conan Doyle's Revolutionary Stories of Fear and the Supernatural."

"The story of Joshua Forrest should be a reminder to everyone that no matter how much knowledge a person has attained, or how much wealth one has gained, an emptiness will remain in all of us that can only be filled by God."-Darrel Hendrickson, Pastor, Grayslake, IL.