SEED OF EVIL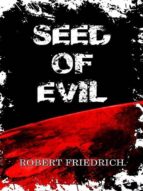 Ficha técnica

Editorial:

ISBN:

9783957038869

Idioma:

INGLÉS

Formato:

EPUB

DRM:

Si
Comprar
From a distant galaxy far beyond our time, the most ancient of all EVIL awoke before descending upon our unsuspecting galaxy. The planet it reached never faced such a threat, but didn?t submit to it, either. In a final attempt to survive, a prison between dimensions was built, the last hope to hold the DARK POWER for an eternity. The planet withered and died, and its people found a new refuge among the stars. That planet is now known as: Mars.

But even eternity doesn?t last forever. Ignorance and an infantile arrogance of a nation leads to its release. And once again, it only leaves death in its wake.

Read the fast-paced Sci-Fi/Horror, where the elements of OCCULT meet with an advanced MILITARY thriller, wrapped in a colossal battle between good and evil.

The first part of a new, long-awaited Saga, from the internationally renowned author of ?The Darkness Within? will give you a gulp of a SMASH HIT and will leave you wanting more...