SENTIMENTAL OVER YOU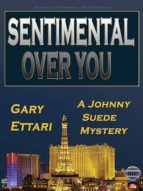 Ficha técnica

Editorial:

ISBN:

9783959261050

Idioma:

INGLÉS

Formato:

EPUB

DRM:

Si
Comprar
A CHILD KIDNAPPED IN BROAD DAYLIGHT.

Las Vegas nightclub singer Johnny Suede has a unique daytime job-he's a private eye specializing in finding missing children. When Tina de Piro hires him to find her missing niece, Lucy, he soon realizes there's more to this case than he thought and before long, he's needing a lot of help from his friends and they're all in over their heads.

"...a tough-minded mystery novel with a modern touch...an engaging mystery that we can only hope will lead to one sequel-and then another".-Andrew C. Gottlieb, Reviews Editor, "Terrain.org."

"...a page turner one with depth and complexity. So be warned: Picking up "Sentimental Over You" will be the easy part."-Tommy Hays, author of "What I Came to Tell You" and "The Pleasure Was Mine."

"...Johnny Suede, casino singer [and]private investigator [specializes] in locating missing children. Gary Ettari possesses a skill in writing characters with a depth of understanding....-"Bob Zeanah, author of "Work to Do" and "No Anchor."

"...reminiscent of...Raymond Chandler...with its crisp dialogue, cast of interesting characters and a surprise ending...Johnny Suede reminds me of Bogart in "The Big Sleep"..."-Preston Holtry, author of the "Morgan Westphal Mystery" series .