SHOW ME THIS MAN CALLED JESUS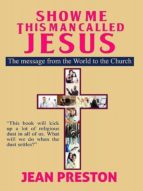 Ficha técnica

Editorial:

ISBN:

9783959268622

Idioma:

INGLÉS

Formato:

EPUB

DRM:

Si
Comprar
This book will kick up a lot of "religious" dust in all of us. It's what we do when the dust settles and our eyes are opened that will determine where we go from here. It is only when we see Him, that we see our destiny. We must not get offended with the truth. The truth is the only thing that will set us free.

The enemy is behind offenses, as he does not want us to reach our destiny. Each one of us has a marvelous, unique destiny marked out by the price Christ paid for it. Hebrews 12:1b puts it simply, "Let us lay aside every weight and sin which does so easily beset us and let us run with patience the race that is set before us."

We would all agree that the church has a message for the world, but would we all agree that the world has a message for the church? They, most assuredly, do. Their cries identify the reason Christ came to earth as a man and became the sacrifice for those cries.

For every cry, there is a provision in His sacrifice. Has the church in general disclosed the real Christ and His sacrifice that brings wholeness and purpose for all people; regardless of denomination, race and background? The world is crying out to the church, "Show Me This Man Called Jesus"! This book reveals truths to the world and the church that will awaken "hope" in both. Hope awakened in the church will bring her out of law into grace. Hope awakened in the world will bring the world to Christ!