SIAM RENDEZVOUS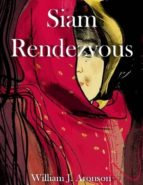 Ficha técnica

Editorial:

ISBN:

9786162220456

Idioma:

INGLÉS

Formato:

EPUB

DRM:

Si
Comprar
From his less than auspicious New York City formative years, William Francis Flower thoughts have been obsessed with cravings for financial success. By and large a timid, yet strong-willed, ambitious pragmatist; he could not settle for anything less than all he deserved. A point in time converge with circumstances dictate his future journey. His amazing expedition is highlighted by acquiring a good deal of money and finding true love in the strangest of places.

His spectacular life?s journey carries this young man from his meek beginnings in an insignificant New York City walk-up apartment to the unfettered carnival of greed and ambition, Wall Street. From these captivating caverns to the unforgiving jungles of the Kingdom of Thailand; this is the account of his episodic passage from the impoverished years of his early life to the independence wealth has provided; from frenzy to serenity and nigh on back again.

Joseph Stefano, a highly successful Manhattan restaurateur, entrepreneur and philanthropist discovered illuminating information while incarcerated in a minimum security prison, these facts proved to be ?revealing? at the very least.

Dr. Barton Barrick, computer software engineer extraordinaire, life has been plagued by unintentional and unprovoked disappointments. His frustrating career turns as he finds true love where he least expects it. It appears his success cards have finally turned.

Archibald Crawford is a world renowned insurance ransom investigator. Plainly depleted of spirit, he seeks to alter the path of his presently dismal existence.

Ever dream of having enough money to last a lifetime? Fantasies become realities for these characters? You?ll turn the pages quickly as you learn how the lives of these bold men twist and turn. Read on as they tumble and stumble upon exhilarating escapades beyond their wildest imaginations.