SPY PUPS: SURVIVAL CAMP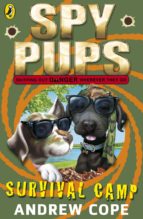 Ficha técnica

Editorial:

ISBN:

9780141970233

Idioma:

INGLÉS

Formato:

EPUB

DRM:

Si
Comprar
Book five of the Spy Pups' adventures also featuring Spy Dog, Lara - now a number-one bestselling series.

SPUD - he's scatty and accident prone - but good with the gadgets . . .
STAR - she's super smart and ready to pounce
Together they're SPY PUPS, following hot in the paw prints of mum LARA (that's Licensed Assault and Rescue Animal to you).
The training never stops, even where you're a qualified Spy Pup! Spud and Star are off to an outdoor survival camp where it's all hard work and no play . . .
But there's something fishy going on in the lake that needs further investigating. Can the pups learn their new skills in time to sniff out another adventure?
'An imaginative, creative feast' - Radio Times
SPY DOG - winner of the Richard and Judy 7+ developing reader category, and the Red House Children's Book Award.
ANDREW COPE
Andrew Cope lives with his wife and two children in a small town near Derby. He really does have a dog called Lara, who has one sticky-up ear and came from the RSPCA. He suspects she could be a secret agent but she hides her identity well.