T.E.P.A.Z RISE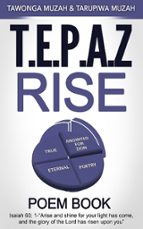 Ficha técnica

Editorial:

ISBN:

9783960288435

Idioma:

INGLÉS

Formato:

EPUB

DRM:

Si
Comprar
Tepaz Rise is a poem book which consists of 17 poems.
The first poems1-9 speak about salvation, and how we came from being bad to good; mostly about thanking God for such grace.
Then the action poems 10-11, that speak of going for it, using you gifts and talents to serve others.
After that discipline and strength poems, 12-13, these speak of how one must persevere, have self-control and be strong in the journey.
Then we come to victory, poem 16 when one achieves greatness. Lastly, we get to the love poem, 17, when one gets the love of his life.