TALES FROM BEXHILL.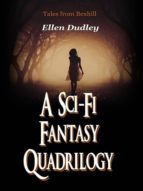 Ficha técnica

Editorial:

ISBN:

9783961421411

Idioma:

INGLÉS

Formato:

EPUB

DRM:

Si
Comprar
In the first quarter of the 23rd century, in the city of Bexhill, capital city of the First State of the Five Confederate States of America, at the George Clooney Memorial Clinic, the first Longevity Gene transplant was successfully carried out on an embryo. Two months later the same was carried out on a 17-year-old girl and one month later on a ninety-six -year-old man, all with astounding success.
Hood.
Elizabeth Hood is a professional journalist who defies the law as she investigates a number of strange deaths. She is haunted continually by erotic dreams, is a professional journalist who defies the law as she investigates a number of strange deaths and finds herself on the trail of a serial murderer, but this is no ordinary killer as the victims meet their demise while comatose in a high security hospital?s ICU.
Xantrillian.
Helen Taylor, Assistant District Attorney has a licence to kill without caution in the Capitol city of Bexhill and after a series of events finds herself on the trail of a killer syndicate owner. Despite several attempts to thwart her she eventually arrives at the truth involving a conspiracy to use her talents for illegal means. Then one day she meets Bella Cauldar.
Bella.
Bella Cauldar, robotist, bored with working with Artificial Intelligence, seeks employment as Assistant District Commissioner as legal assassin. She meets Helen Taylor, the new Commissioner and falls in love. After they part, Bella becomes an Assistant District Attorney. Her grandmother, Amy Cauldar, CEO of Cauldar Robotics, does not approve and informs Bella of a well-kept family secret, after which Bella encounters the mysterious John Smith while investigating an unusual murder, and follows the trail into the Canadian wilderness, where she meets Hunter and his Inuit lover, Jasmine. As Bella and her grandmother visit them, Bella starts to have second thoughts when relating to her own past.
Libelle
Libelle Cauldar is blind, but due to her extra-sensory powers, she can see. She has a taste for human blood and she has an intense dislike for the sun, which is why she only flies at night. She really takes off after being offered a post as a Confederate States Marshall. Affairs converge after meeting up with her long-lost aunt Amy Cauldar and cousin Bella.